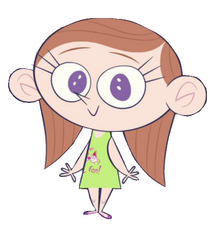 Shelby
Background Information
Feature Films
Television Series
The Mr. Peabody & Sherman Show
Video Games
Voice
Abigail Zoe Lewis
Inspiration
Character Information
Nicknames
Personality
Sweet, cute
Appearance
Birthday
Occupation
Home
New York
Relatives
Pets
Allies
Mr. Peabody, Sherman
Enemies
Likes
Sherman, kissing
Dislikes
Quote
'
Shelby is a character in The Mr. Peabody & Sherman Show who appeared in Biggest Fan / Queen Isabella. She is Mr. Peabody and Sherman's biggest fan. She accidentally gets sucked into the Orcoptitron and started controlling the show and refused to stop unless Mr. Peabody and Sherman met her demands. At the end of the episode, Shelby decided to stop wrecking havoc if Sherman kissed her on the lips, which Sherman reluctantly did just as she got out of the machine.
Ad blocker interference detected!
Wikia is a free-to-use site that makes money from advertising. We have a modified experience for viewers using ad blockers

Wikia is not accessible if you've made further modifications. Remove the custom ad blocker rule(s) and the page will load as expected.