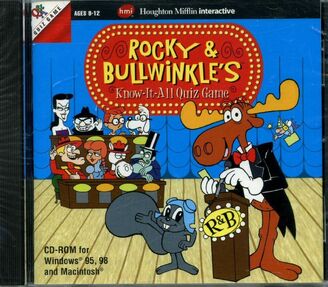 Rocky and Bullwinkle's Know-It-All Quiz Game
is a 1998 educational computer game starring characters from
The Rocky & Bullwinkle Show. 
The game consists of Bullwinkle hosting a quiz show. It was produced by Media Station Inc,
Jay Ward Productions
and Universal Studios. 
Format
While Bullwinkle appears as a host, the other characters can be selected for teams during the team. The player must choose a team which includes; Wossmotta U, Frostbite Falls and Pottsylvania. Then, when the team is selected, they must compete against another remaining team in the events. 
Teams
Pottsylvania
Frostbite Falls
Wossmotta U
Cast
Ad blocker interference detected!
Wikia is a free-to-use site that makes money from advertising. We have a modified experience for viewers using ad blockers

Wikia is not accessible if you've made further modifications. Remove the custom ad blocker rule(s) and the page will load as expected.