Ad blocker interference detected!
Wikia is a free-to-use site that makes money from advertising. We have a modified experience for viewers using ad blockers

Wikia is not accessible if you've made further modifications. Remove the custom ad blocker rule(s) and the page will load as expected.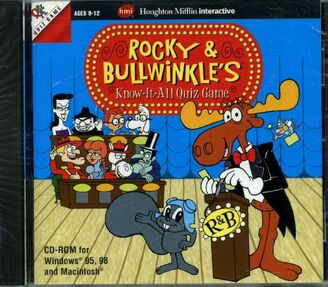 Rocky and Bullwinkle's Know-It-All Quiz Game
is a 1998 educational computer game starring characters from
The Rocky & Bullwinkle Show. 
The game consists of Bullwinkle hosting a quiz show. It was produced by Media Station Inc,
Jay Ward Productions
and Universal Studios. 
Format
While Bullwinkle appears as a host, the other characters can be selected for teams during the team. The player must choose a team which includes; Wossmotta U, Frostbite Falls and Pottsylvania. Then, when the team is selected, they must compete against another remaining team in the events. 
Teams
Pottsylvania
Frostbite Falls
Wossmotta U
Dudley Do-Right
Nell Fenwick
Inspector Fenwick
Captain Peachfuzz