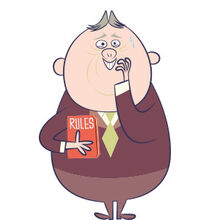 Mr. Hobson
Background Information
Feature Films
Television Series
The Mr. Peabody & Sherman Show
Video Games
Voice
David P. Smith
Inspiration
Character Information
Nicknames
Personality
Timid, shy, nervous, by-the-book
Appearance
Fat man, male pattern baldness, beige suit, gray hair
Birthday
Occupation
Landlord
Home
New York City
Relatives
Pets
Allies
Mr. Peabody, Sherman, Christine
Enemies
Likes
Rules, order
Dislikes
Chaos, destruction
Quote
'
Mr. Hobson is a supporting character in The Mr. Peabody & Sherman Show. He is the landlord who runs the building that Mr. Peabody and Sherman live in.
Official Bio
"The anxious, meticulous and rule loving manager of Templeton Tower, Mr. Hobson loves to do everything by-the-book. Of course, he's always willing to let his "best friend", Mr. Peabody bend the rules for his show. "Just this once"..."
Personality
Mr. Hobson is a very uptight person and is quite timid. Usually, when something goes wrong, he usually hyperventilates as shown in most episodes and is usually getting the short end of the stick. In one episode, he is shown to have a very small brain. 
Physical Appearance
Mr. Hobson is short and fat. He wears a brown suit and has male pattern baldness with gray hair. 
Ad blocker interference detected!
Wikia is a free-to-use site that makes money from advertising. We have a modified experience for viewers using ad blockers

Wikia is not accessible if you've made further modifications. Remove the custom ad blocker rule(s) and the page will load as expected.