This is a complete listing of episodes from the 1959 animated television series Peabody's Improbable History, and it's modern revival The Mr. Peabody & Sherman Show.
Peabody's Improbable History (1959-1960)
Main article: Peabody's Improbable History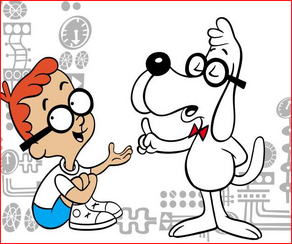 Mr. Peabody is a beagle who is the smartest being in existence. Peabody has accomplished many things in his life as a business magnate, inventor, scientist, Nobel laureate, gourmand, and two-time Olympic medalist. Mr. Peabody becomes sad and lonely and decides to adopt his own human son. In an alley, he meets Sherman, a dorky, glasses-wearing, orange-haired boy. After saving Sherman from a group of bullies, Peabody discovers that Sherman is an orphan and decides to adopt him.
After a court appearance and a talk with the President and the government, Peabody becomes Sherman's new guardian. Mr. Peabody tells Sherman to not call him "Daddy" and to call him by his name, "Mr. Peabody".
Believing that boys need running room, Peabody invents the WABAC machine as a birthday gift for Sherman. He and Sherman go back in time to see a Roman speaking in Latin; Peabody adds a translator circuit to the machine so that everyone seems to speak English. They see the Roman again and learn that he is a used chariot salesman. Their next trip is to see Ben Franklin flying his kite, but Peabody and Sherman discover that they cannot interact with the past. Peabody makes some more adjustments, turning the WABAC into a "should-have-been machine". This causes past events to seem distorted and anachronistic, and famous people to behave out of character. Now it's up to Peabody and Sherman to save the timeline and create time paradoxes.
Episodes (1959-60)
The Mr. Peabody & Sherman Show (2015-present)
Main article: The Mr. Peabody & Sherman Show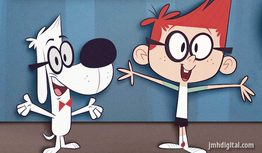 The classically popular Mr. Peabody from
The Rocky & Bullwinkle Show
, returns to television in his first incarnation in over 55 years! This time, he's hosting his very own late night talk show in his New York penthouse with all new adventures in his beloved WABAC machine. Plus, Mr. Peabody's boy, Sherman stars in his own segment called "Sherman's Corner" where he shows all kinds of interesting things. However, the show is far from perfect, tons of people including Mr. Peabody's neighbors and many audience members are always trying to get on the action and always ruin Peabody's plans for a perfect show. Join Mr. Peabody on his new improbable adventures on the
Mr. Peabody & Sherman Show
!
Episodes
Season One (2015)
Season Two (2015)
Ad blocker interference detected!
Wikia is a free-to-use site that makes money from advertising. We have a modified experience for viewers using ad blockers

Wikia is not accessible if you've made further modifications. Remove the custom ad blocker rule(s) and the page will load as expected.