Jane Moosefield is a character from The Rocky & Bullwinkle Show. She is one of Boris Badenov's many disguises.
Appearances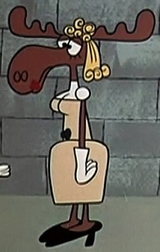 Jane Moosefield appears in the story arc,
Banana Formula
where Boris disguises himself as her in order to get Bullwinkle to tell him the secret formula that he swallowed.
She returns in this CGI short where Boris disguises himself as her once again. In this, she is called "Lady Moose-Bot" instead of Jane Moosefield.
Ad blocker interference detected!
Wikia is a free-to-use site that makes money from advertising. We have a modified experience for viewers using ad blockers

Wikia is not accessible if you've made further modifications. Remove the custom ad blocker rule(s) and the page will load as expected.