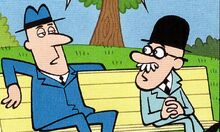 Edgar and Chauncey
Background Information
Feature Films
Television Series
The Rocky & Bullwinkle Show
Video Games
Voice
Paul Frees and Bill Scott
Inspiration
Nostalgic adults and audiences
Character Information
Nicknames
Personality
Deadpan, observant
Appearance
Birthday
Occupation
Home
Frostbite Falls
Relatives
Pets
Allies
Each other, Rocky J. Squirrel, Bullwinkle J. Moose, Mr. Peabody, Sherman, Dudley Do-Right, Nell Fenwick, Horse, Gidney and Cloyd, Captain Peachfuzz
Enemies
Boris Badenov, Natasha Fatale, Snidely Whiplash, Fearless Leader
Likes
Sitting down, talking to each other
Dislikes
Bad guys, people acting crazy
Quote
'
Edgar and Chauncey are recurring characters in The Rocky & Bullwinkle Show. They are two old men who often appear when something bizarre happens to Rocky and Bullwinkle.
Biography
These two men have done everything, at least once. Perhaps doomed to be co-workers and best friends for life, Edgar and Chauncey are the world's best onlookers. The most observant townsfolk in existence, they often relax on the job or in public places with little or no regard to what is going on around them.
History
Edgar and Chauncey are two old men who often sit on a bench together during Rocky and Bullwinkle's escapades. They always converse and discuss what is going on and what the world is coming to. They seem to have no actual roles in the series, but to make snarky remarks on what is happening with our heroes.
Physical Appearance
Edgar is the taller of the duo. He is usually seen wearing a blue suit and hat. Chauncey is the shorter of the duo and wears a green suit and hat. He has a white mustache and wears glasses.
Personality
Edgar and Chauncey don't really have much of personalities, but they seem to be nostalgic and aren't exactly surprised by what they see, given their ages.
Trivia
They are similar to Statler and Waldorf from The Muppets.
Ad blocker interference detected!
Wikia is a free-to-use site that makes money from advertising. We have a modified experience for viewers using ad blockers

Wikia is not accessible if you've made further modifications. Remove the custom ad blocker rule(s) and the page will load as expected.