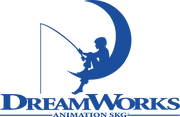 DreamWorks Animation SKG, Inc. (known professionally as DreamWorks Animation or simply DreamWorks) is an American animation studio that is a subsidiary of NBCUniversal, a division of Comcast. It is based in Glendale, California and produces animated feature films, television programs and online virtual games. The studio has currently released a total of 33 feature films, including the franchises Shrek, Madagascar, Kung Fu Panda, How to Train Your Dragon and Trolls. Originally formed under the banner of its main DreamWorks studio in 1997 by some of Amblin Entertainment's former animation branch Amblimation alumni, it was spun off into a separate public company in 2004. DreamWorks Animation currently maintains its Glendale campus, as well as satellite studios in India and China. On August 22, 2016, NBCUniversal acquired DreamWorks Animation for $3.8 billion, making it a division of the Universal Filmed Entertainment Group.
Films produced by DreamWorks Animation were formerly distributed worldwide by its main DreamWorks studio and then by Paramount Pictures, who acquired the main DreamWorks studio in February 2006 and spun it off again in 2008. In early 2013, 20th Century Fox took over a theatrical distribution deal with DreamWorks Animation films starting on March 22, 2013 with The Croods which will end on June 2, 2017 with Captain Underpants: The First Epic Movie, in which Universal Pictures will distribute subsequent DreamWorks Animation films, starting on March 1, 2019 with the release of How to Train Your Dragon 3.
Ad blocker interference detected!
Wikia is a free-to-use site that makes money from advertising. We have a modified experience for viewers using ad blockers

Wikia is not accessible if you've made further modifications. Remove the custom ad blocker rule(s) and the page will load as expected.