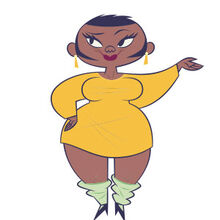 Christine
Background Information
Feature Films
Television Series
The Mr. Peabody & Sherman Show
Video Games
Voice
Da'Vine Joy Randolph
Inspiration
Character Information
Nicknames
Personality
Boisterous, excitable, bubbly, soulful
Appearance
Birthday
Occupation
Aspiring singer
Home
New York City
Relatives
Kathleen (sister)
Pets
Allies
Mr. Peabody, Sherman, Mr. Hobson
Enemies
Likes
Singing, showing-off, the spotlight
Dislikes
Quote
'
Christine
is a supporting character in
The Mr. Peabody & Sherman Show
. She is
Mr. Peabody
's neighbor from downstairs. 
Official Biography
"Mr. Peabody's boisterous and bubbly downstairs neighbor, Christine is an aspiring actor-singer-dancer-model-celebrity. She is determined to break into show business and sees the Mr. Peabody and Sherman show as her ticket to fame and money."
Personality
Due to her love for singing and the spotlight, Christine is always looking for a way to appear on the show and perform, much to Mr. Peabody's annoyance. Sometimes, she'll even take drastic measures such as putting handcuffs on him.
In one episode, she is revealed to have a sister, who excelled past her in everything. It is revealed she wants to impress Kathleen, going so far as to even try to marry Peabody. At the end of the episode, Kathleen reveals that she's always loved Christine, no matter what.
Physical Appearance
Christine is an African-American human female. She appears to be robust and short black hair. She wears a tight yellow dress with long sleeves, matching earrings and black boots.
Trivia
Christine and Mr. Peabody almost got married.
Ad blocker interference detected!
Wikia is a free-to-use site that makes money from advertising. We have a modified experience for viewers using ad blockers

Wikia is not accessible if you've made further modifications. Remove the custom ad blocker rule(s) and the page will load as expected.