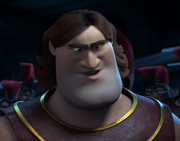 King Agamemnon is a character in Mr. Peabody & Sherman who led the Trojan War.  He marries Ms. Grunion at the end of the movie.
Personality
King Agamemnon loves to fight but understands feelings as well, like when he was talking about his dad being a minotar.  He doesn't like to be hurt himself also, like with the tazer.
Ad blocker interference detected!
Wikia is a free-to-use site that makes money from advertising. We have a modified experience for viewers using ad blockers

Wikia is not accessible if you've made further modifications. Remove the custom ad blocker rule(s) and the page will load as expected.